So it has been absolutely ages since I have blogged but after a brilliant, relaxing day of crafting yesterday I decided I really do need to start crafting more for fun & less because I "have to" so I thought it would be best if I started to blog again so that I can show what I am doing!
Yesterday was a really great day, the first half of the day was spent doing cards with Karen (I think she is a Kilcoole craft club member) & the 3 cards we done with Karen were decoupage, now I have to say i am not a fan of decoupage mainly because a) I don't have the patience, b) I'm not the handiest with scissors & c) it never looks right when I do it but I gave it a go, well I tried with the 1st card & it was ok but on the 2nd & 3rd card I just done it my own way & I was happy with how they all turned out.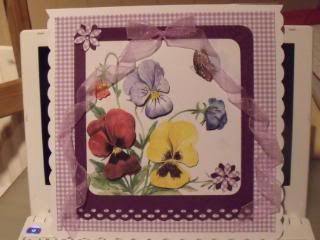 This is the 1st card we done with Karen, I loved the colors of this one & that deep dark purple card was slightly embossed & was just gorgeous!!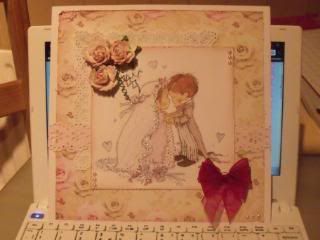 This is the 2nd card we made with Karen & it was definitely my fave of the 3 we made with Karen! The image is a Lily of the valley one & it is just so much cuter IRL.
Last but not least is this sweet baby card. Just so you know, Karens looked sooooooo much better, I kept messing up & eventually just gave up!!
So after lunch we had 3 brilliant projects with
Jackie
& I knew I would love her projects as I have been attending her
workshops
since April 2009 & wouldn't miss one EVER because of 2 reasons, the 1st is because for one Sunday every month I get to sit for at least 6 hours & craft to my hearts content, no Lily coming to investigate what I'm up to! The 2nd reason I wouldn't miss one of Jackies
workshops
is because I don't want to miss out on ANY of her fantastic projects! For 22 months now I have been going to Jackies
workshops
& at each & every one of them I have done something new & learned something new. The woman is a genius!!
This is what Jackie had to keep us busy!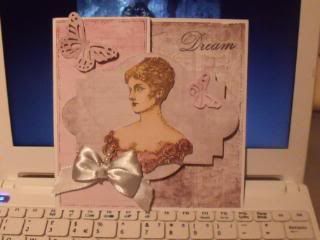 This was our 1st make with Jackie, I just loved the vintage look of this one! The papers were delish!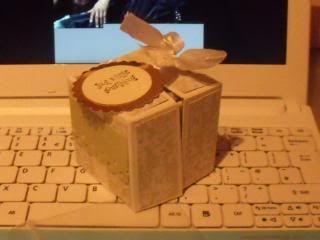 Then we had this "box within a box" & it did have choc's in it but Lily was waiting for me when I got in & wasn't long emptying it!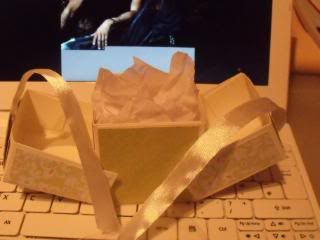 I didn't even get aa chance to take the photo with the choc's in it lol!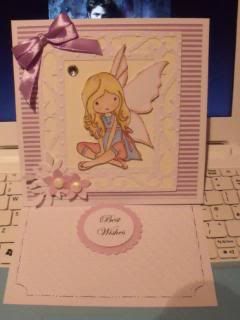 Last but definitely not least is this easel card! I love the stamp on this & it was a lovely fresh card to finish the day! The bow on this card & on a few of the others was done using
this
& it is just the best little thing ever. I can see a lot of my creations with these cute little bows!
The day was just brilliant altogether, nothing could be faulted, I was kept busy but not too busy to have a little catch up with Angela. It was a real treat to have a chat before our time (a whole 2 weeks early, we won't have anything to talk about now at Jackies next workshop lol!!!)