So my crafty friend Ang who is part of the facebook group that I'm in set a challenge for a card swap this month & it was a brilliant challenge!
We had to use buttons as the main focus of the card so no using as embellishments.
Ang posted this
link
to give us some inspiration & I love the technique.
This is what I came up with.
I used my eCraft & MTC to cut out the circles & rings to make the giant button.
I tore paper to make the "hills" & used ProMarkers to colour the sky & add some birds. I stamped the sentiment which is a from a Hero Arts set in Distress ink & added some Glamour Dust to the tops of the hills!!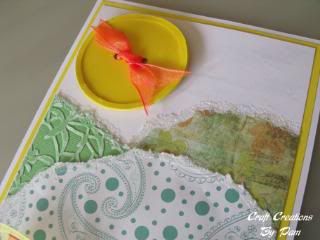 I made a second card for the challenge because I was out in my craft room making a card for an order & had a brain wave!
this is what I came up with
The buttons are handmade again!
I used my heat tool to melt the organza ribbon, it looks fantastic. I got the idea from
here
. This lady will be teaching at the
GBCE
which I will be going to on the 30th of September & I CAN'T WAIT!!!
Pam X