The bank holiday just gone I decided to do up my craft room
instead of waiting on Steff to do it up!
I was so sore the day after but at least my craft room is a colour I like instead of the icky brown that Steff painted it just because we had brown paint!!!
I also got a new desk & some very inexpensive mesh drawer units (€9.99 each!!!) from Ikea so my craft room finally is how I want it!
This is my main sitting area.
All my stamping, embossing, punching & general supplies are inthe drawer units!
Some eye candy too ;)
My die cutting station!!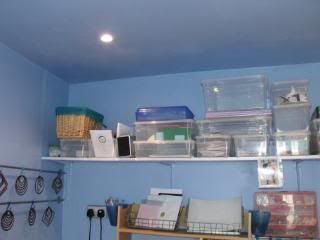 Even the ceiling is my fave colour!!!
My ribbon & general storage.
I have bought some sigh vinyl & the plan is to make some kind of arty wording on the wall but I'm still trying to come up with something!!
Pam x