Here are some wedding cards I made using 3 different stamped images that I had coloured in ages ago & they were stored in the lid of my ProMarker box.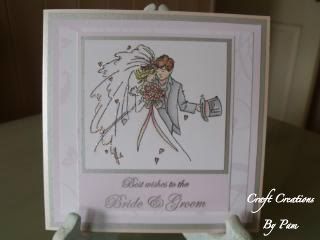 This one is one of my fave wedding stamps & its a
LOTV
stamp.
LOTV have some stunning stamps & they have low postage too £3.50 worldwide (£2 to uk) but orders over £25 are free!
The sentiment is just a wooden stamp & I don't remember where I got it! I stamped it using Perfect Pearls Medium & then used silver Perfect Pearls! It gives a gorgeous finish.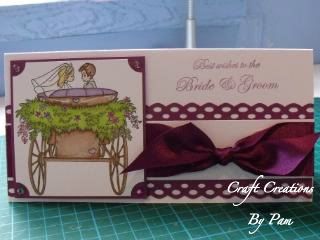 The new ProMarker fine nibs would have come in very handy for this, as it was I used my blender pen to correct all of the mistakes I made & there were a lot, especially around the wheels.
I think this is a lovely image, very fun.
This next card was made using the die cut I cut from a SVG a while back using my eCraft!
I don't know where I got the file from but it was a free one!
Again I used my Crafters Companion glitter spray to jazz up the die cut!
You can get the spray
here
.
Pam x