The theme for the June swap was love, romance etc! I got Isobels kit
& this is what I came up with!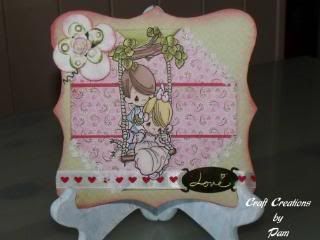 The kit was to include
*Card & envelope*
*2 piece's of co-ordination paper*
*1 piece of cardstock*
*1 length ribbon or lace*
*3 flowers*
*2 hearts*
*1 stamped image*
Next months theme is Summer & you can find the details
here
if you are going to
the workshop & would like to take part!
Pam X